if($pageInfo['id']=='13') { ?> } ?>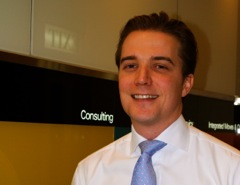 Nicholas Bousfield
Head of Sales (Financial Sector)
Originally from the UK, Nick started his career in London after graduating from University of Newcastle-Upon-Tyne with a BA (Hons) in Business and Management. His career started at HiFX plc where he undertook a role of Sales Consultant before moving on to work for Raphaels Private Bank as Head of Desk, Private Client FX Sales.

Nick arrived in Hong Kong in 2010 and prior to joining Integra-IT in January 2014, worked in roles as a Business Development Manager for financial institutions, where he gained regional experience based mainly in Hong Kong, Japan and Korea.

Nick is a target driven and highly motivated individual and we are delighted that he will bring his enthusiasm, drive and focus to our Sales Team. His understanding of Financial Institutions will help Integra-IT develop its client relationships within these sectors.

Nick will be heading up the financial side of our sales team and will manage all financial institutions and organisations.